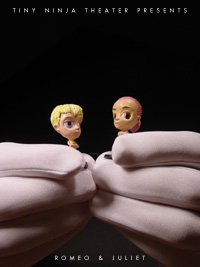 Chris Head and Melanie Hipchikz as Romeo & Juliet (promotional poster)


---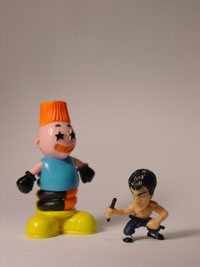 "Hold, Tybalt! Good Mercutio!"
Mercutio (Trevor Bigfoot) vs. Tybalt (Brice Leigh)


---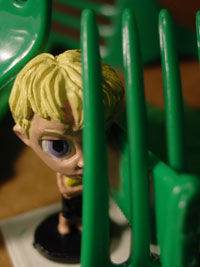 Romeo in Capulet's Orchard: "I have night's cloak to hide me from their eyes."


---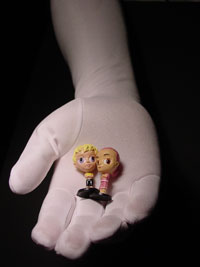 "For never was a story of more woe than this of Juliet and Romeo."


---

all photos ©2002 Xina Nicosia

THE SHOW


Tiny Ninja Theater presents Romeo & Juliet is the company's second Mainstage production. It stars Chris Head as Romeo, and Melanie Hipchikz as Juliet. It runs approximately 45 minutes.

As is to be expected, the parts that director Dov Weinstein had the most difficulty casting were the two title roles. Although Mr. and Mrs. Smile (stars of Tiny Ninja Theater presents Macbeth) were ready to take on the challenge, Weinstein was hesitant.

"There's no doubt that having experienced, talented performers like the Smiles playing Romeo and Juliet would have made for good theater," admits the director, "but, just between you and me, they seemed a bit mature for the roles."

Weinstein auditioned a number of other company members for the roles, and for a short time, it looked like Ninja (who was well-received by audiences for his performance in Shakespeare's Sonnets) would play the young Montague, and Ninja (who had hitertofore only played bit parts in the Tiny Ninja productions) would play the young Capulet.

"I thought they were quite good," says co-producer Jonathan Van Gieson with a weak smile, "quite good. But they were missing, I don't know, that something, that zazz... they just didn't stand out. At one point, I had seen some actors in Manhattan that I thought would be perfect for the roles, but they disappeared before I could point them out to Dov."

It was not until a few weeks before opening night that Weinstein finally found his stars. "Ironically enough, we were at a movie theater in upstate New York when Jon spotted them -- these actors he had been looking for all over the city," explains Weinstein. "He was right, they had exactly what I wanted in my leads -- a sort of wide-eyed innocence that really speaks to the roles. I cast them on the spot, and then we all saw the movie together."

However, the production hit another snag when it came to light that the two were newcomers to the stage.

"I have to admit, I was a nervous when I found out the leads had never acted before," Van Gieson shakes his head, "the show was going up in three weeks, and we just couldn't afford another disaster like The Effects of Nuclear War. A lot went into that play, but it didn't take off, and I think that had to do with the inexperience of leading actor Kurt Smile."

But Weinstein had faith in his newfound stars, and he and his cast locked themselves away for a period of intensive rehearsal. "With the new leads, it was almost as if we had to start from scratch," says Weinstein, "there we were, with three weeks until curtain, and it felt like we hadn't done any work at all."

Happily, it all came together in time for opening night, and both young actors received good reviews at the world premiere. And, although Ninja and Ninja didn't get to play the title roles, neither expressed any anger or bitterness towards the two leads -- professionals always, they had nothing bad to say at all.

read the press release

THE PRODUCTION
Tiny Ninja Theater presents Romeo & Juliet premiered on May 25, 2002 at the Piccolo Spoleto Festival in Charleston, SC. It will play in NYC in fall/winter 2002.


---

Director's Note (Spoleto)
I think I can safely speak for the entire cast and crew when I say how happy we are to be back in Charleston for the world premiere of Tiny Ninja Theater presents Romeo & Juliet. All of us involved with Tiny Ninja Theater presents Macbeth here last year enjoyed ourselves so much that we agreed to return before we even left.

As always, I have been graced with a superb cast. I must thank in particular Sir Tobias Smile, Q.E.D. – Sir Toby as he is affectionately called – who came out of a well-deserved retirement to play the small but vital role of Friar John. Also, thanks to my old friend Mr. Smile, who, although he did not appear in this production due to scheduling conflicts, gave generously of his time and expertise to help our young leads mine the sometimes treacherous, but always richly rewarding, vein of Shakespeare's verse.

The entire company joins me in recognizing Jonathan Van Gieson for all his work on our behalf, and Xina Nicosia for her lovely photographs. Personally, I remain forever indebted to my family, without whom nothing is possible. Enjoy the show.



---
CREW:

Written by:
William Shakespeare

Directed by:
Dov Weinstein

Co-Produced by:
Jonathan Van Gieson,
4Panel Productions

Photography by:
Xina Nicosia
---
Scene: VERONA; MANTUA

CAST - ORIGINAL PRODUCTION:
(in order of appearance)

CHORUS

Himself

ESCALUS,
prince of Verona

Ninja

MONTAGUE,
heads of two houses at

Ninja

CAPULET,
variance with each other

Ninja

LADY MONTAGUE,
wife to MONTAGUE

Ninja

LADY CAPULET,
wife to CAPULET

Ninja

BENVOLIO,
nephew to MONTAGUE, and a friend to ROMEO

Ninja

ROMEO,
son to MONTAGUE

Chris Head

PARIS,
a young nobleman, kinsman to THE PRINCE

Ninja

NURSE to JULIET

Mrs. Smile

JULIET,
daughter to CAPULET

Melanie Hipchikz

MERCUTIO,
kinsman to the Prince, and a friend to ROMEO

Trevor Bigfoot

TYBALT,
nephew to LADY CAPULET

Brice Leigh

FRIAR LAURENCE,
a Franciscan

Jeffery Smile

PETER,
servant to JULIET'S NURSE

Alien Fighter

BALTHASAR

Ninja

AN APOTHECARY

Mr. Bones

FRIAR JOHN,
also a Franciscan

Sir Tobias Smile

CITIZENS OF VERONA, KINSFOLK OF BOTH HOUSES, MASKERS, GUARDS, WATCHMEN, AND ATTENDANTS

Ninjas
---
PERFORMANCES:

5/24-6/9/02 @
Piccolo Spoleto
1/9-1/12/03 @
The Warehouse Theater
2/23-3/10/03 @
Chashama
3/10-5/18/03 @
The Bowery Poetry Club
---